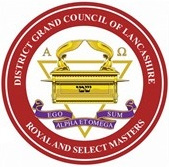 Welcome to the District Grand Council of Lancashire of The Order of Royal and Select Masters, or Cryptic Masonry as it is often known. This web site is for members and prospective members of the order.
Please feel free to look around the web site and find out more about this wonderful order in Freemasonry.
Update on 23rd July 2020 – The suspension of Cryptic Masonry has ended on the 18th July 2020. Council meetings can now resume following the Government guidance and the guidance issue by Grand Council via Mark Masons Hall.
For advice on the resumption of meetings please contact the District Grand Recorder